Earplugs are one of the most important pieces of safety equipment I wear while riding. Why do I wear them? Itís as clear as this: When Iím 60 years old and still riding my motorcycle, I want to be able to hear. I plan on riding bikes for the rest of my life. After 30 or 40 years of exposure to the noises of long distance motorcycle riding, my eardrums would be battered to death.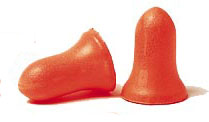 And itís not the noise from the bike itself. Hell, my BMW motorcycles are probably quieter than your car. Itís the wind noise. Itís that swirling, droning, high-pitched noise of traveling through the wind at 70 MPH all day long. The wind plays off the bike, the windshield, the fairing, and most directly off your helmet. Try riding a medium sized day, say 300 miles, at highway speeds without ear protection. See how you feel at the end of the ride. Chances are youíll be a little dazed and numb. You might even have a headache. Now multiply that ride by a week or two, or 100 days. And multiply that by a couple of years. Pretty soon your hearing will be ruined for good. And thereís no getting it back once itís gone. Itís that simple.
Fortunately, someone thought of the idea of earplugs, initially crafted by sticking wads of cotton into the ear canal. Times have changed and modern science has taken over. Earplugs come in all shapes and sizes. Some are made of plastic, some of foam. Some are disposable, and some are reusable. You can even have custom sets crafted to perfectly fit the holes in the sides of your head.
Iíve tried many types, but the ones that I find most effective and most comfortable are the MAX-1 by Howard Leight Industries. These are the orange colored, bell shaped disposable plugs rated at NRR 33 (noise reduction rating). Youíll see them at some of the better motorcycle shops, usually in a jar by the cash register at 50 cents a pair. You can buy them in bulk and save some money while saving your hearing. I bought 200 pairs for less than $30. I wear a pair for a day or two, depending on how long Iím on the bike. They probably last for about 24 hours of use before they start to get a little stiff. They still work fine after a couple of days, but putting in a new pair just feels good, like clean socks.
Use of earplugs is pretty self evident, but let me offer one more word of advice: lubricant. Your plugs will go in much easier, and seal better if you put them in your mouth before you put them in your ear. Sounds gross, huh? Well, it works. And all the racecar drivers do the same thing before they put on their helmets on pit row. Watch closely the next time you check out a NASCAR race.
So if youíre serious about motorcycling, try on some earplugs for size. Pretty soon you wonít be able to ride without them.
RELATED LINKS:

HOWARD LEIGHT INDUSTRIES
PRO-AM SAFETY PRODUCT STORE