GPS on a motorcycle? Iíve got to be kidding, right? Actually, I donít know how I would get by without it. It just may be the most useful piece of equipment I have. GPSís are starting to be offered as optional equipment in many automobiles, and they are becoming quite a popular motorcycle add-on as well.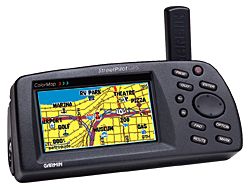 If you donít know what it means, GPS stands for Global Positioning System. Originally designed for military purposes, a constellation of 24 geo-synchronous satellites sends timed signals that are picked up by a receiver and used to triangulate a position with extreme accuracy. The signals are best received in open terrain, away from trees, buildings or other features that obscure the sky. The satellites, maintained by the U.S. Department of Defense, orbit the Earth every 12 hours at an altitude of eleven thousand nautical miles.
Mounted between the handlebars of my motorcycle is a Garmin StreetPilot ColorMap, a GPS receiver which retails for about $550. No license or subscription fee is required to receive the satellite signals. Good quality GPS receivers, like the StreetPilot, can track up to 12 separate satellites simultaneously. A signal from 3 satellites is required to fix your position in latitude and longitude; four signals are required to also determine your elevation. The more signals your GPS receiver is picking up, the more accurate your location fix will be. My unit has registered accuracies within 11 feet.
The ColorMap unit contains a display that actually locates my position on a moving map. The waterproof unit comes with a base map containing most of the major streets and cities in the U.S. The GPS also has a trip computer, which I reset every day. It tells me how many miles Iíve traveled, my average speed, my maximum speed, as well as my time spent moving and standing still. The StreetPilot also contains a clock that receives the exact time, embedded in the satellite signal. It even tells me when the sun will rise and set. The information is very accurate, and much more reliable than a mechanical speedometer. (Actually, most BMW motorcycle speedometers are a given percent over actual. My R1100GS is 7 percent over, meaning that when Iíve traveled 100 miles according to the GPS, the motorcycle will read 107 miles.)
The real genius of the StreetPilot is that I can download street-level, detailed information for the areas I will be traveling through onto removable 16MB data chips. Every few nights, depending on how far Iíve traveled, I connect the unit to my laptop and download information from the Garmin MapSource MetroGuide U.S.A. CD-ROM. This two-disc set contains every possible street in the U.S., including little dirt roads. Without this technology I would have to carry hundreds of maps. I look down at the receiver and it tells me exactly where I am, what road Iím driving on, my longitude, my latitude, and my altitude. Iím never lost.
The downloaded MetroGuide information also contains a massive amount of useful data. I can use it to find the nearest gas station, motel, and even a National Park Site. Besides the actual location of places like movie theaters and police stations, the data also contains phone numbers for those points of interest. When I ran out of gas in western Texas, the MetroGuide saved my butt. The auto club was going to take 2 hours to reach me, but the phone number for a gas station 15 miles away was all I needed to get moving. I was on the road in less than 30 minutes.
The ColorMap has some advantages over the standard black and white version of the StreetPilot. The biggest improvement is obviously the color screen. The various colors really make a big difference when riding through metropolitan area where the map is detailed. The base map of the ColorMap also contains more information than that of the standard StreetPilot, including interstate exit data. And downloading data to the memory cards happens at a speed of 115bps, as opposed to the slower 33.5bps of the black and white version. This makes a big difference if you are frequently making MetroGuide data chips. But the ColorMap has a few down points as well. The screen can be difficult to read in direct sunlight and tends to scratch easily. And of course the ColorMap is more expensive.
Mounting the GPS unit onto your motorcycle is also a bit of an issue. The best mount Iíve seen is made by Martin Fabrication and sold through Cascade BMW. There are a variety of models and mounting methods. I power the unit directly off the motorcycle battery.
The GPS is a wonderful tool and also a bit of a toy. If you want to learn more about GPS check out the web sites listed below. If you are interested in ordering some GPS equipment, I suggest TVNAV at 877-625-3546. Their web-site is located at http://www.tvnav.com. Theyíve got the best prices on the Garmin units and accessories and they aim to please. Darrell will probably answer the phone. Tell him that Dan Cohen in New York referred you.
RELATED LINKS:

GARMIN'S WEB SITE
TVNAV'S WEB SITE
PETER JONES' GPS RIDERS
JOE MEHAFFEY and JACK YEAZEL'S GPS SITE
MARTIN FABRICATION: GPS MOUNTS FOR MOTORCYCLES